What to Watch on FandangoNOW: 'Irresistible,' 'Viena and the Fantomes,' Fourth of July Favorites and More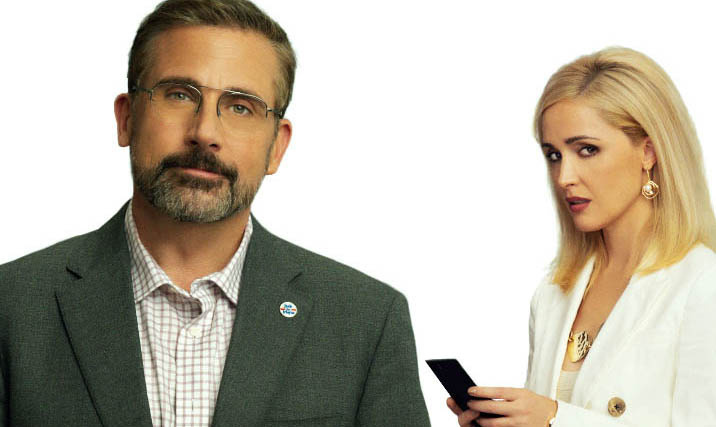 Want to know what's coming soon to digital and what to watch right now on FandangoNOW? Here is your weekly guide to the latest releases:

What are the latest new releases to watch right now?

Irresistible, a political comedy directed by Jon Stewart and starring his old Daily Show colleague Steve Carell as a slick campaign strategist, arrived on digital as a Home Premiere rental last Friday. The movie also stars Rose Byrne as Carell's nemesis and Oscar winner Chris Cooper as a rural mayoral candidate.

Viena and the Fantomes stars Dakota Fanning as a roadie on tour with a post-punk band in the 1980s. Written and directed by Gerardo Naranjo (Miss Bala), the drama is available to rent or buy digitally and also features Caleb Landry Jones, Evan Rachel Wood, Jon Bernthal and Zoe Kravitz as the band's manager.

What movies are great to pair with those new releases?

Irresistible is Jon Stewart's sophomore effort as a filmmaker, so you can make a whole career retrospective pairing it with his much more serious feature directorial debut, Rosewater. More fitting to its plot, though, is the fellow small-town mayoral election comedy Welcome to Mooseport starring Gene Hackman. 

The Runaways, in which Dakota Fanning plays real-life punk singer Cherie Curie, would make a perfect double feature with Viena and the Fantomes. I also recommend filmmaker Gerardo Naranjo's breakout feature, the 2011 Mexican crime film Miss Bala (which was remade last year) as another pairing option. 

Are there any other big movies coming out this week?

Caleb Landry Jones can also be seen this week in The Outpost, the latest from film critic turned movie director Rod Lurie (The Contender). Based on a true story, the Afghanistan War drama, set during The Battle of Kamdesh, also stars Orlando Bloom and Scott Eastwood and arrives on digital on Friday, July 3. 

What are some great Fourth of July movies to watch?

Celebrate America's birthday this weekend with the two most obvious picks, in a literally titled sense: Oliver Stone's Vietnam War veteran drama Born on the Fourth of July and the 1990s alien invasion classic Independence Day. I also recommend the not-all-bad sequel Independence Day: Resurgence.

For great movies set during the July 4th holiday, there's Steven Spielberg's blockbuster pioneer Jaws, the action sequel Live Free or Die Hard and the coming of age baseball comedy The Sandlot. And if you want to go back to the original Independence Day, check out the American Revolution musical 1776 or The Patriot.

Can you recommend some great binge bundles to rent?

Another great Fourth of July movie is Magic Mike, which you can rent along with its acclaimed sequel as a bundled pair for under $6. The comedy Grown Ups is also set during the holiday, so why not rent the original and its sequel, Grown Ups 2, as a double feature? That one is available as a binge bundle for less than $5.

Are we celebrating any big anniversaries this week?

The iconic time-travel movie Back to the Future and the fantasy comic book adaptation Red Sonja both turn 35 this week, while the blockbuster action sequel Die Hard 2: Die Harder celebrates its 30th anniversary and the classic spoof Airplane! marks 40 years of tickling our funny bones. 

The Oscar-winning astronaut drama Apollo 13 and the comic book adaptation Judge Dredd both turn 25 years old this week. Going back further, the live-action Disney favorite The Apple Dumping Gang turns 45, the Jerry Lewis comedy The Bellboy turns 60, Elia Kazan's Panic in the Streets turns 70 and the Bette Davis film All This, And Heaven Too turns 80.

More recent, the vampire sequel The Twilight Saga: Eclipse turns 10 years old and John Singleton's Four Brothers and Steven Spielberg's War of the Worlds remake (co-starring a young Dakota Fanning) both turn 15. Finally, the true disaster drama The Perfect Storm celebrates its 20th anniversary.

Which Carl Reiner movies should you watch now?

We lost the comedy icon Carl Reiner at the age of 98 this week, and his collaborations with Steve Martin are essential viewing now more than ever. Start with The Jerk, then watch the detective film homage Dead Men Don't Wear Plaid followed by The Man With Two Brains and the underrated All of Me. His 1987 comedy Summer School is another favorite that I think is worth a look.

I also recommend you watch some movies featuring his acting talents, including the classic comedy The Russians Are Coming! The Russians Are Coming! and the trilogy of Ocean's Eleven, Ocean's Twelve and Ocean's Thirteen (you can buy the three together). Also check out his final role as the voice of Carl Reineroceros in the recent Pixar sequel Toy Story 4.

Which must-see movies are coming soon to FandangoNOW?

A couple of intriguing science fiction movies are making their debut digitally next month, both releasing on July 10. Archive, which is set in 2038, follows a scientist working to create the first true human-equivalent android, while the award-winning Volition is about a man who foresees his own murder. 

What are the 10 most popular new movies on FandangoNOW?
1. Irresistible

2. The King of Staten Island

3. You Should Have Left

4. Trolls World Tour

5. Scoob!

6. Do the Right Thing

7. The Invisible Man

8. Just Mercy

9. Sonic the Hedgehog

10. Bad Boys for Life