Spike Lee Explodes On Knicks Security, 'You Wanna Arrest Me Like Charles Oakley?'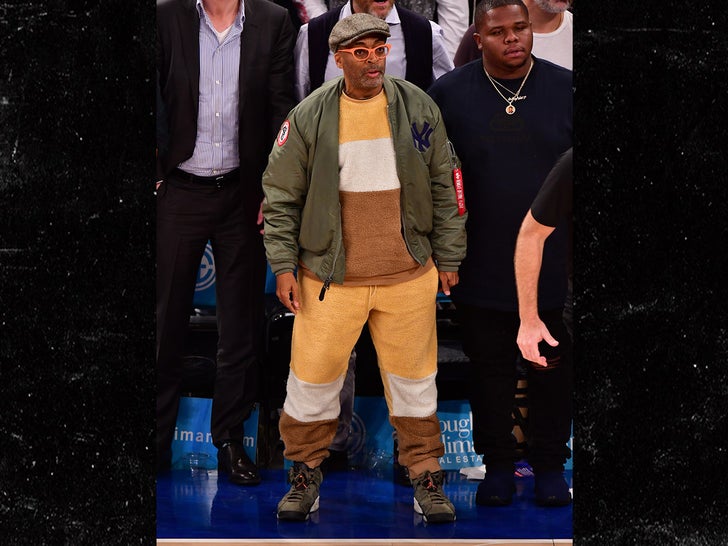 Breaking News
Getty
8:20 AM PT — Lee is going OFF on the Knicks over Monday night's incident … explaining to ESPN's "First Take" the team's statement on the situation was BS … and he didn't make up with Dolan afterward.
"I wasn't shaking hands. In fact, when he came over to me I didn't get up right away, I was just sitting in my seat" Lee said.
"I said, 'Mr. Dolan, I've been coming for 28 years. Why wasn't I notified? By email, text, phone.' He says, 'now you know.' Now you know?! It's too late!!!'"
"I'm being harassed by James Dolan. I don't know why."
Lee says it's a shame the Knicks haven't won a title since the '70s … and the 62-year-old says he's worried NY won't win one again in his lifetime.
When told he pays $300k a year to attend Knicks games, Lee said "I look stupid now."
More NY Knicks drama … this time involving their biggest fan, Spike Lee — who got into an altercation with security at MSG and told 'em, "You wanna arrest me like Charles Oakley?!"
The whole thing went down at Madison Square Garden right before the Knicks took on the Houston Rockets … when security reportedly blocked Lee from using a restricted entrance into the building.
During the exchange (captured on video) you can hear Lee saying "no one told me" he wasn't allowed to use that particular entrance … and he dug in his heels, "I'm staying right here."
A Knicks spokesperson has said the entrance was not designated for fans — with sources saying it was supposed to be for media and staffers only.
The good news … Lee met with Knicks' owner, James Dolan, and the two smoothed things over. And, even better for Lee and the Knicks, THEY ACTUALLY WON THE GAME!
The Knicks have been AWFUL this season — one of the worst records in the NBA — but they still manage to draw A-List celebs to their games … including Chris Rock, Pete Davidson, Kenan Thompson and more.
As for the game, Knicks rookie RJ Barrett scored 27 points and Julius Randle had a 16-point, 16-rebound double-double to lead the team to a 125-123 win over Houston.
Originally Published — 7:40 AM PT