Jennifer Lopez Shares Rare Makeup-Free Selfie With Kids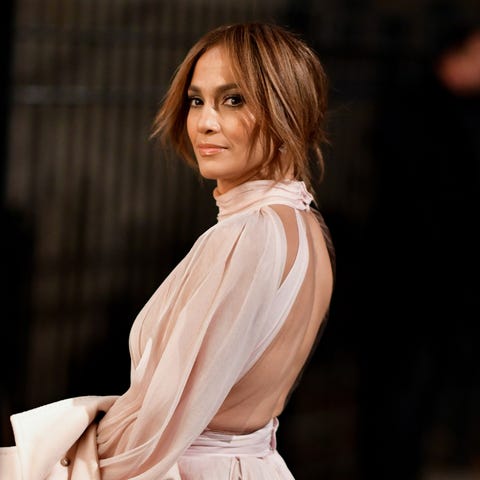 James DevaneyGetty Images
Jennifer Lopez knows how to dress up for an occasion: be it a red carpet or in a breathtaking wedding gown while shooting a film. But J.Lo shared a rare moment of her stripped bare of all the makeup, diamonds, and accessories that she steps out in regularly as an A-list celeb. The 50-year-old actress and singer posted a cute makeup-free selfie of her and her twins Emme and Max on her Instagram.
"Home sweet home ?," Lopez wrote in the caption. "Sitting here with my coconuts and feeling so grateful. THANK YOU to the @lafilmcritics Association! I am humbled and honored. #Ramona #hustlersmovie #LAFCA."
Lopez has been campaigning for Hustlers this award season. Lopez also received a Best Performance by an Actress in a Supporting Role in Any Motion Picture Golden Globes nomination this week for her role as Ramona in the film.
She shared another makeup-free video with her reaction to that news. In her caption, she wrote, "Could not be prouder to be recognized by the #HFPA. Ramona was a complicated character and it was an honor and challenge to bring her to life. Hustlers was a labor of love, sweat and perseverance written, directed, produced, edited and starring a group of bad-ass women. I am proud and honored to represent them and this film!!!! ♥️♥️ @goldenglobes #HustlersMovie #Ramona Thank you so much Hollywood Foreign Press Association!!! ♥️♥️"
And in the video, she reiterated the same point: "Hi guys, I'm just waking up and I just heard that I got nominated for best supporting actress for a Golden Globe. Oh my god, it's been 20 years since I was nominated for Selena! I just want to thank the Hollywood Foreign Press Association for this incredible honor. I am humbled and so excited to be recognized for this role as Ramona in Hustlers. Thank you so much! And I'll see you at the Globes!"