Family Movie Night: Turn Wooden Blocks into City Blocks Inspired By Your Favorite Places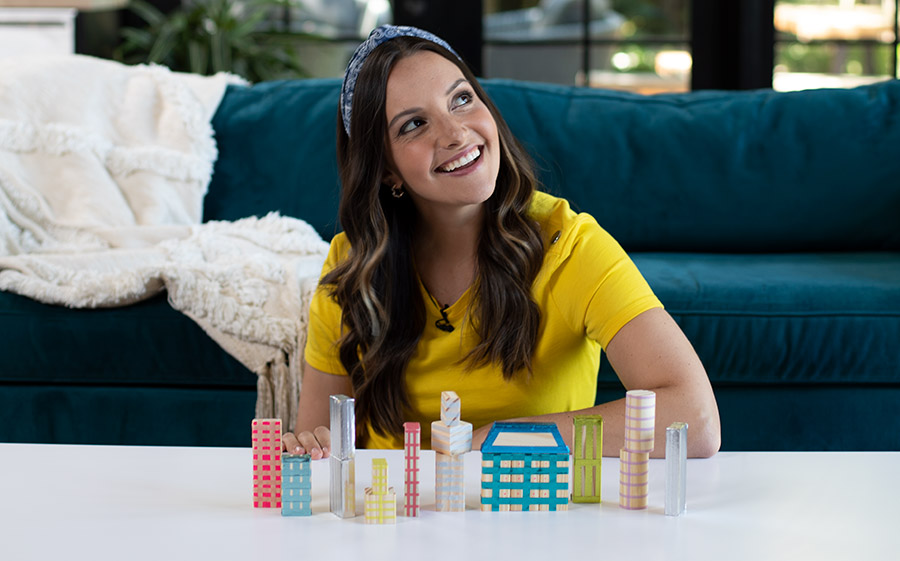 Dreaming of far-away places? Us too. Honestly, we could all use a getaway right about now and our kiddos are no exception. So for this project, we're going to show you how to add some fun and design to your kids' blocks so they can build the city of their dreams — inspired by home, places they've always wanted to visit and their favorite films. Brit Morin here, Founder and CEO of Brit + Co, mom to two bouncy kiddos who definitely like to have an activity in front of them while watching our fave family movies. I've teamed up with DQ® to show you a creative way to customize basic wooden blocks.

Watch the video below and scroll to see how we used paint pens and washi tape to add windows, doors and other architectural details to a set of blocks. And if you don't know what washi tape is, you are in for a serious DIY treat. Washi tape is paper tape that legit comes in every color and pattern under the sun. You can even get a roll of washi tape with bricks on it!

Materials and tools:



Wooden blocks




Paint pens




Washi tape

Instructions:

1. Start by stacking and lining up your blocks to design your city block. You can combine blocks together to create bigger buildings.

2. Use washi tape and add lines to create windows and texture. If you are stacking multiple blocks together, bind them together with tape. (Bonus, this is a fun way to create a grid pattern!)

3. Finally, get your paint pens to add some more pops of color and dimension. Fill in windows, add a doorknob — whatever you like.


Line them all up and there you have it. A sweet little neighborhood made by you and your littles.

Share your creative city blocks by tagging @britandco on social — we can't wait to see what you create!

Looking to pair your next creative activity with a seasonal treat? Check out your local DQ® for the NEW Caramel Apple Pie Blizzard® Treat and other new flavors from the NEW DQ® Fall Blizzard® Menu!

Sponsored by DQ®