7 Best Face Sunscreens for Spring and Summer 2020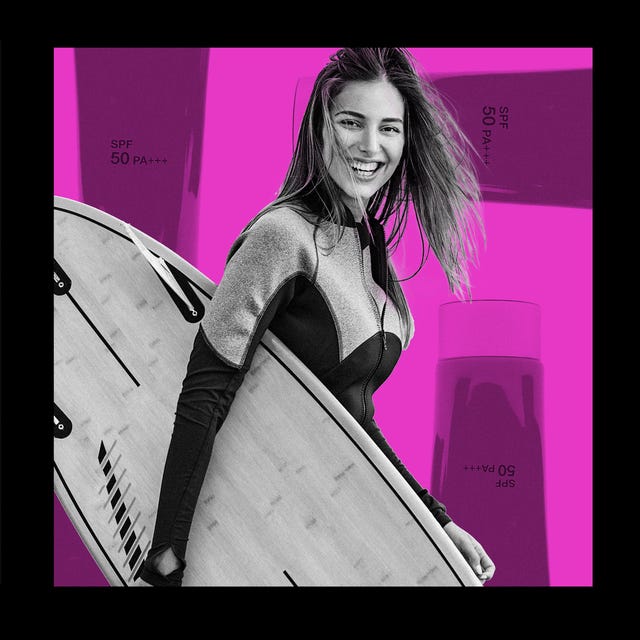 Getty + Mia Feitel
Buying a product without a recommendation? Not in this economy. In ELLE.com's series Unexpected Expert, we find out which items are actually worth your hard-earned cash.
If you're still wondering if adding sunblock to your morning regimen is an unnecessary step, consider this statement from the Skin Cancer Foundation: "More than 90 percent of the visible skin changes associated with aging are caused by the sun's ultraviolet rays." When it comes to protecting your face from UVA and UVB rays, the safest bet is a hat, sunglasses, and—most importantly—a broad spectrum sunscreen with SPF 20 to 50.
To get some expert advice on which ones are worth using every day, ELLE.com asked seven surfers—who know firsthand the need to protect themselves in the sun—for their holy grail picks.
Advertisement – Continue Reading Below
Mix and Match
UV Protective Compact Foundation
Shiseido
shiseido.com
$30.00
"My favorite sunscreen, which I've used since I was a teenager, is Shiseido compact foundation. It's long lasting, looks amazing, and protects my face for hours. Another favorite is We Are Feel Good Inc zinc sunscreen for my face. When I'm surfing, I will use this by itself for max sun protection. It's smooth, tinted, and lasts for hours. When I'm just going to the beach or out in the sun, I will mix the zinc with my favorite foundation." —Laura Enever, professional surfer
All Natural
Ultimate Sun Protector Lotion SPF 50+
Shiseido
sephora.com
$49.00
"My favorite everyday and in-water sunscreen is Shiseido's Ultimate Sun Protector Lotion SPF 50+. I love the lightweight texture, plus it's so rare that sunscreen actually rubs in and is a natural color on my face and body. Quality is also important to me, as well as using products that are ocean-conscious. I don't ever want to abuse the place that gives me so much joy." —Sage Erickson, professional surfer
Reef Friendly
Raw Elements Face and Body Natural Sunscreen
Raw Elements
amazon.com
$17.49
"Being a surfer and an instructor, I spend a lot of time in the ocean and in the sun. I always use Raw Elements for my face and body. Saving the planet is just as important as saving my skin, and Raw Elements is made with all natural ingredients. It also goes on super smooth, is water resistant, reef-safe, and plastic-free." —Jen Hanono, surf instructor at Skudin Surf
The Moisturizer
Essential SPF
Kari Gran
karigran.com
$29.00
"I love the Kari Gran Essential SPF because it's made with organic mineral-based ingredients. It not only protects our ocean and the barrier reef but also keeps my skin free of chemicals and works as moisturizer. It goes on light, so when I am not surfing I can use it under my makeup." —Kim Dunn, surfer from Long Beach, NY
For Sun-Lovers
Vertra Face Stick SPF 50+
"I love Vertra face sticks because they've always protected my skin naturally and keep my face from burning even while I'm out surfing for hours. I especially love their line because they've always made sure their products don't hurt our reefs and our moana. Between surfing, body surfing, and stand-up paddle boarding, I find myself under the sun a lot, so I'm stoked I can trust Vertra to protect my skin." —Nancy Emerson of Nancy Emerson School of Surfing
The Primer
Sun Bum Mineral Face Sunscreen Lotion
Sun Bum
target.com
$17.99
"I love this product because it's vegan, reef-friendly, mineral, and gluten-free. I also like the feeling of applying it because it's a nice buttery application that acts as a primer or first layer of your face regime. I really love the entire mineral line; I even use Sun Bum's baby line." –Malia Manuel, professional surfer
Mess-Free
Sun Bum Original SPF 30 Sunscreen Face Stick
"I also use Sun Bum face sunscreen. They make a stick version, so it's quick and easy to apply. The sunscreen isn't messy, and you don't have to get it all over your hands." –Amanda Ardito, surf instructor at New York Surf School
Advertisement – Continue Reading Below