16 Best Bathing Suits For New Moms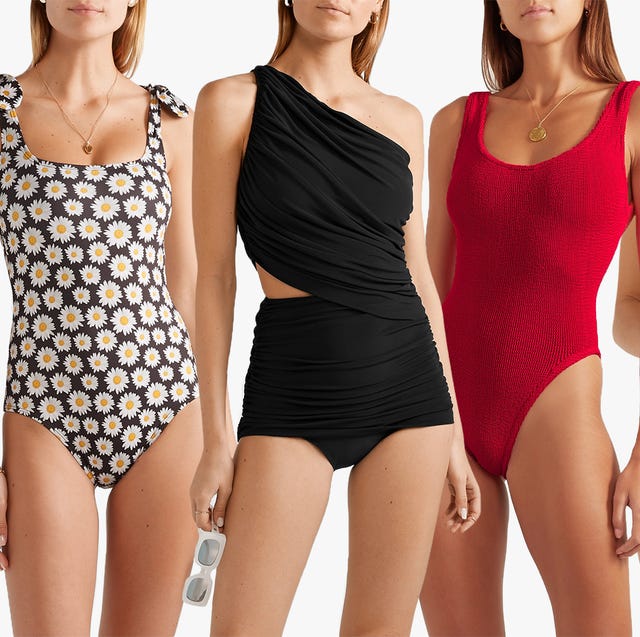 Courtesy of Brand
Here's the thing about #mombod, #momlife, or #mom-fill-in-the-blank: There's no such thing as one-size-fits-all when it comes to the insane, unpredictable, gut-wrenchingly wonderful experience of having a child. The emotional, mental, and physical factors all vary wildly, and I promise—you're setting yourself up for something bad if you go down the curvy, winding path of comparison.
Take, for instance, the task of finding a swimsuit post-baby. I know what would matter to me as a new mom, but there are factors I can't possibly comprehend or didn't have to deal with (like a c-section scar or timing: My daughter was born in November, when bathing-suit season was blissfully in the future).
"Everyone has unique needs," Sabra Krock, the co-owner and creative director at Everything But Water, told me. "Women who are still breastfeeding might want the ease that comes from a bandeau or tankini top. People who had c-sections typically prefer styles that don't have to pull over their heads. If they're looking for something that flatters or sits softly on the tummy, one-pieces with ruching or texture and banded bikini bottoms are good options."
Here, a roundup of stylish suits that are especially perfect for new moms.
Advertisement – Continue Reading Below
Best for Breastfeeding
Maillot de Bain
Breastfeeding can make you feel the opposite of sexy— no longer purely sensual, breasts are suddenly purposeful. A lace-up front is ideal for easy nursing access while still feeling a little steamy.
Best for Breastfeeding
Ribbed Bandeau Bikini
EBW
everythingbutwater.com
$108.00
When you're still nursing, style choices are focused first and foremost on ease. A bandeau top makes easing a hungry little one quick.
Best for Breastfeeding
Daphne One-Piece
Mara Hoffman
goop.com
$265.00
A nursing bra and a swimsuit walked into a bar…and out came this guy! The thick shoulder are good, period, but basically made for someone who's actively nursing.
Best for Breastfeeding
Apex One-Piece
JADE Swim
shopbop.com
$198.00
If you like the look of a bandeau but feel better with a bit more support, this is your perfect combo. The thin solo shoulder strap creates an elegant line (without requiring a Houdini-like act to get out of).
Best for a C-Section
Crinkled Stretch-Knit Bikini
Bottega Veneta
modaoperandi.com
$440.00
Bottega's covetable textures have jumped from bags to swim—and the crinkly, soft look is ideal for dressing sensitive skin. The cut is pretty stellar too; a high-waist offers coverage, while still providing a super sleek look.
Best for a C-Section
Sonnet Tie-Strap One-Piece
Peony
saksfifthavenue.com
$157.50
Lined, textured fabric is ideal for a sensitive midsection, while scalloped shoulder straps mimic elements from some of our favorite ready-to-wear dresses.
Best for a C-Section
The Atlas
Summersalt
summersalt.com
$95.00
Belted suits are flattering to the figure, but you might want to skip extra pressure on your stomach if you had a c-section. So? Fake it. Beyond the smart colorblocking, the wide, adjustable straps and soft cups will help if you're bustier than normal.
Best for a C-Section
Scalloped High-Waist Bikini
Give your scar some coverage with a high-waisted style that has a soft waistband—anything that pinches or digs in will be uncomfortable (and unflattering).
Best for Stomach Coverage
Ruched Halter One-Piece Swimsuit
JOHANNA ORTIZ
nordstrom.com
$350.00
Side ruching reliably flatters, while a detailed neckline—like the braiding, keyhole, and center halter on this suit—attracts the majority of attention.
Best for Stomach Coverage
Sydney Hipster
MaxSwim
everythingbutwater.com
$78.00
Fold-over bottoms are designed with give that allows them to be worn up, down, or in between—meaning they won't pinch or dig in. It's soft on your stomach while letting you decide how much you want to cover.
Best for Stomach Coverage
Second Wave Rash Guard
Madewell
madewell.com
$59.50
The term "tankini" can conjure up images of middle-school pool parties, but here's a handy hack for now: Replace that word with rash guard and you've got a whole new vibe. It gives you coverage that feels more surfer-chick than capital-M Mom.
Best for Stomach Coverage
Nelaris High-Waisted Bikini
Isabel Marant
24s.com
$180.00
Smart design features that allow for customizing the fit can be a postpartum woman's best friend. The side cinching of this high-waisted bottom might not have been made with new moms in mind, but it sure is genius.
Best for All-Around Flattering
Aurelia Swimsuit
Odyssee
net-a-porter.com
$250.00
Dark-on-light colorblocking tricks the eye into minimizing shapes; in this case, an ivory outline shrinks your figure.
Best for All-Around Flattering
New Side Slit Swimsuit
Haight
modaoperandi.com
$210.00
As a swim rule of thumb: the simpler the suit, the more universally flattering it's likely to be. With a high neck, narrow cut, and expansive back, this is a triple threat. Plus, if you want to dip your toe into the new cleavage that can come with nursing, side boob is the easiest way to start.
Best for All-Around Flattering
Bellitude Bikini
Zimmermann
saksfifthavenue.com
$250.00
Adjustable ties on top and bottom allow for the best—and therefore flattering—fit. They're especially good when investing in a suit you plan on wearing post-post-baby since you can alter them as your body continues to change.
Best for All-Around Flattering
Noir Balconette One-Piece
Ephemera
ephemeralive.com
$80.00
A classic black maillot and lingerie cups? Postpartum or not, this is the stuff that swimsuit dreams are made of.
Advertisement – Continue Reading Below